Your Guide to Homeownership & Equity
< Back to Articles | Time to Read: 5 minutes
To become a home buying powerhouse you need to know about equity. Home equity is the amount of interest a home has built over time. Your equity can increase over time if the property value increases or if you pay down your mortgage loan balance.
Equity is viewed as an asset and makes up a portion of your total net worth. It's also an important part of building wealth and is typically considered to be a long-term strategy.
U.S. year-over-year home price appreciation averaged 3.8% per year according to Black Knight, Inc. This is slightly lower than the 25-year average of 3.9%. Most recently, median home sale prices made the largest increase on record, skyrocketing 15% year-over-year for the first week in October 2020. The previous largest increase was 14.5% seen in September 2005.**
The Importance of Equity for First-Time Home Buyers:
As a first-time home buyer, you should look for a house that you can add value to help ensure a boost in equity. Make sure you take advantage of all the resources available to help you during the house hunting process, including up-to-date search listings in the HomeScout app, your Realtor®, and your Home Loan Specialist. You can increase the value of a home by making improvements, living in an area with rising property values, or by paying down your mortgage principal.
DON'T FORGET!: Mortgage principal is the outstanding balance of your mortgage. As monthly mortgage payments are made, the mortgage principal is reduced.
The Importance of Equity if You're Looking to Upsize from Your Current Home:
If you're already a home buyer and you're looking for more space, figuring out how much equity you've built up in your home is easy. You just need to know what your current home is worth (you can find this out by having an appraisal done) and what you owe on your mortgage. Once you have this information, you just subtract the amount you owe on your mortgage from the value of your home. The remainder is your home equity which helps you gain momentum for your next home purchase.

Equity – Your Wealth Building Tool:
Owning a home is a wealth-building tool that will pay off through equity increases and price appreciation. Now's the time to unlock your true home buying potential.
You may be a long way from retiring, but if you think of buying a home as a long-term investment. Even with property taxes, insurance, and upkeep, it's likely you'll pay less than you would if you were to rent. And if you can pay off your home before you retire, you can always downsize and pocket the extra cash.
So, the real question now comes down to—how much house can you really afford?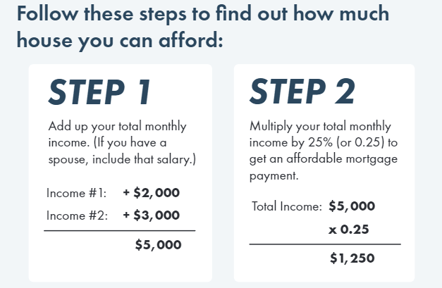 Once you have your budget pinned down, you need to figure out how much money you will put toward your down payment. The more cash you put down up front, the lower your monthly mortgage payment will be and the quicker you'll pay off your home loan. If you put down 20% or more (of the home's price) you will avoid paying Private Mortgage Insurance (PMI) with a conventional loan. PMI typically costs about 1% of the total loan value.
FUN FACT!: Nearly 70% of all new home sales were financed using conventional loans in 2020. This type of home loan is not insured or guaranteed by a government entity (like an FHA loan) but is backed by private lenders. *
*Quarterly Sales by Price and Financing by the U.S. Census Bureau.
** Redfin analysis of the Case-Shiller national home price index and analysis of MLS data.