Did You Miss Your Opportunity to Refinance?
< Back to Articles | Time to Read: 5 minutes
Mortgage rates were low for the better part of 2020, and the mortgage industry has been inundated with customer looking to refinance their home loans. Yet, we are still seeing many people not taking advantage of refinancing opportunities.
Why is this the case when the demand for refinances are still very high? In fact, refinances are nearly double the rate they were a year ago, and on average those who are taking advantage of refinancing opportunities are saving an average of $300 a month!
According to CoreLogic, about 20 million Americans have home loans that are sitting at interest rates higher than 4 percent. Are you one of those 20 million existing homeowners? No need to sit idle and wait for rates to drop even further.
Lowering Your Rate Could Save You Thousands
Because the interest rate on your home loan is directly tied to how much you pay on your overall mortgage, lower rates usually mean lower monthly payments.
Check out this example of monthly payments (principal and interest) on a 15-year fixed-rate loan of $250,000 at 5.5% and 4.0%.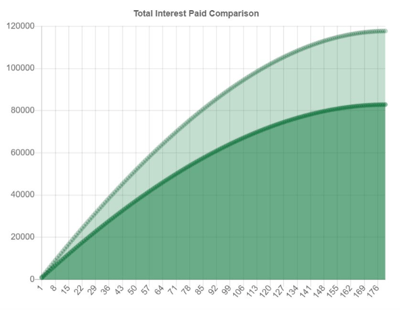 Total Interest at 5.5% = $117,687
Total Interest at 4% = $82,860
With a 1.5% difference in interest rate, there was a $34, 827 difference in interest paid! Imagine what you could do with that in your pocket!
* The scenarios listed above have an APR of 5.5% and 4% respectively. Additional fees are not included in the examples above. Total finance charges may be higher over the life of the loan.
Why Refinancing Is Important
Most people choose to refinance their mortgage to save money. That may look different depending on your situation. Some of the most popular reasons to refinance are to lower your interest rate, remove Private Mortgage Insurance (PMI), reduce the loan term, or switch the loan type. All reasons are equally important when you are looking to save money and help you become completely debt-free faster if that is your goal.
Don't Miss Your Chance to Save BIG!
The best way to keep track of moving interest rates so you can quickly move to lock in a rate is to sign up for Churchill Mortgage's Rate Watch program. Once you are part of the program, we keep it simple:
Let us know your target interest rate (or we can help you find it if you don't know).
We will watch for daily market changes that may benefit you.
Get notified when it is time to move forward and save money.
The Adverse Market Refinance Fee
As of December 1, 2020, the Federal Housing Finance Agency (FHFA) who oversees Fannie Mae (Federal National Mortgage Association) and Freddie Mac (Federal Home Loan Mortgage Corporation) started collecting an "adverse market fee" for conventional loans refinances. This fee will not impact FHA, VA, and USDA refinances (or loans not sold to Fannie Mae or Freddie Mac). Jumbo loans will also not be impacted.
The fee is 0.5 percent on refinance home loans which is $1,000 on a $200,000 mortgage. There is one caveat—if you have a refinance with a loan balance of less than $125,000, you are exempt from this fee.
This refinancing fee should not hold you back from refinancing your current mortgage. While it is an added expense for conventional loan refinances, low interest rates remain to play a huge part in your overall savings.
To figure out if refinancing makes sense for you, we'll need to determine your "break-even point."
Don't forget!: The break-even point is when the net savings from your new monthly payment covers the cost of refinancing.
Here are four key details to think about when looking at your break-even point and making sure refinancing makes financial sense:
How long do you plan on staying in your current home?
Can you refinance into a shorter loan term? (i.e. 30-year loan to a 20 or a 15-year loan)
How much are closing costs?
How long will it take you to recoup the closing costs?
Ready for a Refinance Reset in 2021?
With so much money on the line, it is best to seek advice from an expert. So, if refinancing your current mortgage is part of your 2021 financial plan, we can help you trade your current home loan for one that meets your needs today and your goals for tomorrow.
STEP 1: Click here to schedule a free Churchill Checkup. This will help you match your mortgage to your financial goals. During this quick mortgage checkup, we'll identify ways to save both time and money.
STEP 2: Work with your Home Loan Specialist to determine your closing costs and lock a new interest rate. Remember, with a great rate, you may see a similar payment due to the lower interest rate!
STEP 3: Ask questions! At Churchill, we strive to have the heart of a teacher (not a salesperson) and want to make sure we are setting you up for financial success. We will guide you each step of the way and help you feel confident in the refinancing process.