Understanding Property Taxes
< Back to Articles | Time to Read: 5 minutes
What's the first thing that comes to mind when you think of property taxes? … Your budget? Stress? Or does your mind just go blank?
We get it, no one likes giving up hard-earned money to pay property taxes (a tax on real estate that is paid by the owner of the property), but these taxes are an important part of homeownership. They are critical to local services like police and fire departments, schools, road construction, and much more.
If your brain reboots every time property taxes are mentioned, we're here to help break down the importance of these taxes and help you know what to expect so you don't end up blindsided when it's time to pay.
Calculating property tax
When buying a home, property taxes can be a tough thing to figure out. Fortunately, you don't have to calculate your own property taxes, but it is nice to know how your tax amount is determined. The goal is to know as much as you can upfront, so you don't have any surprises.
There are two main components that go into determining a property tax:
The property value- This is the assessed value of your home (typically by a professional appraiser). Your tax appraised value is only used to determine the amount of taxes you will pay, it's not a value to base how much your home is worth. The property value can be assessed as often as once a year in some places. Click here to search by zip code, county, or state to check on your local assessor's website or tax office.
The tax rate- This is also known as a mill levy. Stick with us, here … it's just the tax rate for the location of your home. This rate is typically shown as a percentage (i.e. 5%). You can find your tax rate for your home (or soon to be home) on your local government's website or by calling your local municipality. Click here to find your local government and county clerk information.
ALERT: Property taxes can change. This is because the assessed value of your home can go up and down based on your local real estate market. For example, if you remodel and add on to your home, your property taxes could change.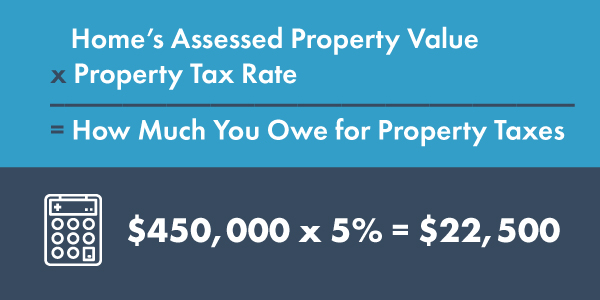 Paying your property taxes
Many home buyers have an escrow account set up that is typically managed by their mortgage servicer. This type of account is a portion of your monthly mortgage payment that is put into a separate account to cover your estimated property taxes and homeowner's insurance premiums. The tax payment will automatically be withdrawn from your account.
Some homeowners pay an escrow bill once a year, or every six months, when the bill comes from the taxing authority. This is how you pay your property taxes if you own your home free and clear.
If for some reason you do not pay your property taxes on time, the taxing authority will place a tax lien on your home which becomes a bigger issue if you decide to sell your home. It's important to always stay up to date with your property taxes.
For questions, you can find more information on your home county's tax assessor website.
Property taxes when buying and selling a home
When property is transferred, the transaction will prorate taxes to the appropriate party based on when ownership is transferred, when taxes are due and what period is covered by those taxes. Adjustments will be made on the closing instructions to ensure the seller pays for the period they owned the property and the buyer pays for anything after that.
If you've bought a home that has been previously owned (i.e. not new construction) you'll be responsible for the property taxes during the time you'll be living in the house. For example, if you move into a home in November, you will reimburse the seller at closing for the pro-rated portion of the property tax they have already paid from November moving forward.
If you're buying a home that's new construction, you still have to pay your property taxes on closing day, but it's likely your taxes will be lower the first year once your property is revalued or reassessed.
Paying any type of tax is not fun. But, with property taxes your money will end up funding many important services for your local community, like schools and roads. It's part of the cost of homeownership so it's necessary that you understand the real estate taxes in the area you're thinking about moving.