How Low Housing Inventory Is Impacting Home Buyers
< Back to Articles | Time to Read: 5 minutes
The inventory of homes in most housing markets of the country has been limited in 2022. This has resulted in bidding wars in many markets and people paying well over asking price to have their offer accepted. The difference in inventory between now and 2008 is astonishing. Let's take a look:
Looking back at December 2008, there were 9.4 million homes available for purchase. In December 2021, there were 1.8 million homes available for purchase. That's a huge decline in terms of availability.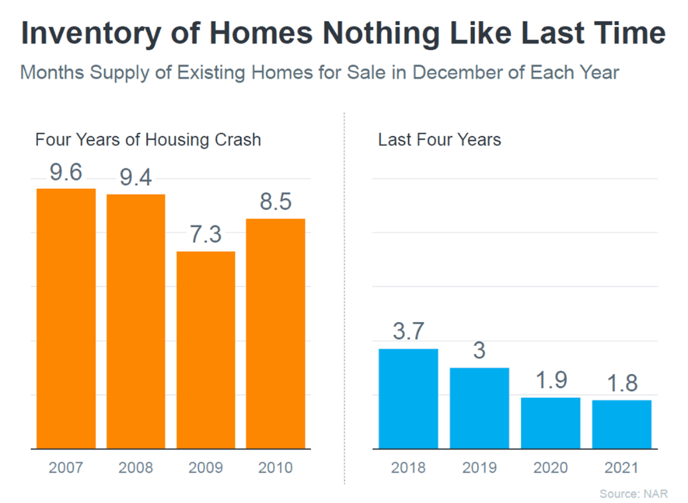 In 2021, we experienced the highest level of existing home sales since 2006 with 6.12 million homes sold. But why have we seen such a shift? Part of this is due to the explosive growth we've seen in births.
For example, in 2006 there were 55 million 33-year-old's, known as Generation X. Comparing that to Millennials, or a 33-year-old in 2022, there are 66 million. Eleven million more people at the prime age for homeownership makes a big difference in availability.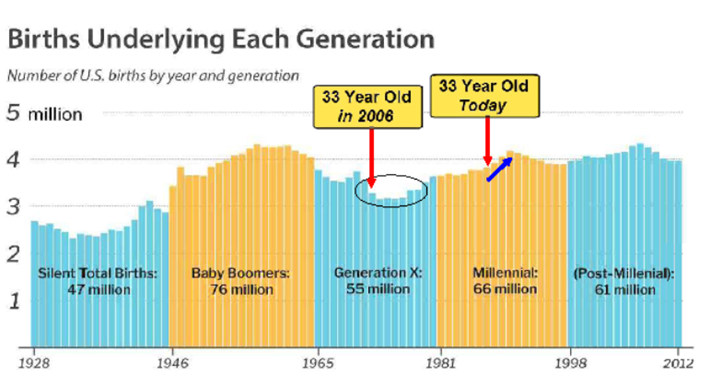 There were 12 million more households in 2020 than in 2007, but this inventory shortage is nothing like the housing crash experienced in 2008. For example, in December 2008 there was an average of 9.4 million homes available for sale, but in December 2021, we saw 1.8 million homes available for sale. That's 12 million more people (with almost 8 million less homes for sale) which hasn't made buying a home easy!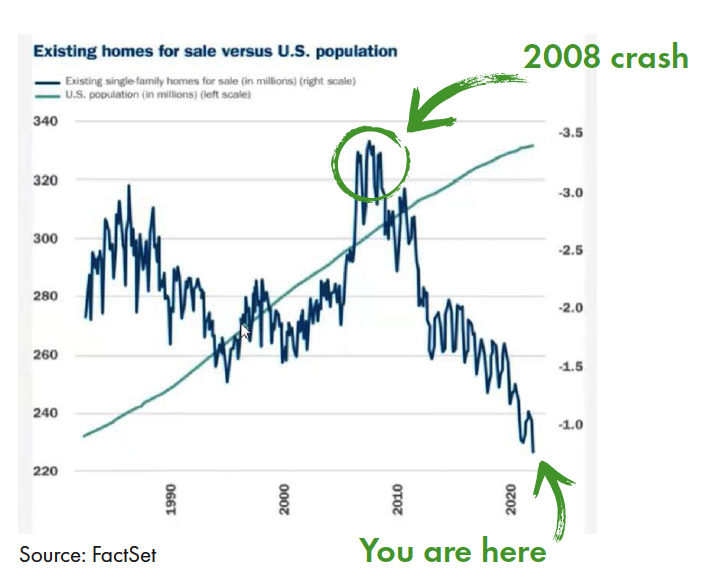 It's important to note there are many more home purchases being made by investors; 18% in fact. As investors buy homes to rent out, whether short-term or long-term, it lessens the purchase inventory for home buyers. This is only made worse with new construction builds not being able to keep up with demand.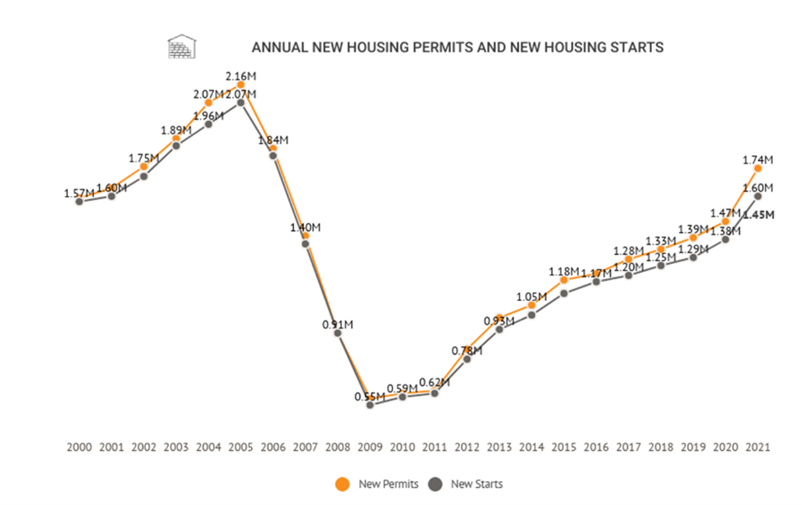 Due to the supply chain and labor issues that came with 2020 and 2021 because of the pandemic, it's estimated the market is undersupplied by 4.4 million homes as of 2021.
Demand is expected to outpace supply for the next three to four years, although new construction builds are expected to slightly increase for the remainder of 2022. While the tight supply will be supportive of home prices, the overall costs of buying a home is still something to keep an eye on.
Check out what Churchill's COO, Matt Clarke, and financial expert, Dave Ramsey, have to say about getting into a home despite today's inventory challenges below.
Working with a trusted Home Loan Specialist at Churchill Mortgage will ensure you're on the smartest mortgage plan possible. Not only will we take your long-and short-term goals into account, but we'll give you the competitive advantage you need to win in today's market.
Home Buyer Edge is a Churchill exclusive program that supports you from all angles to help get your offer accepted.
Churchill Certified Home Buyer: This unique portion of the Home Buyer Edge program sets buyers up like you're making a cash offer. A Churchill Certified Home Buyer is considered the gold standard of pre-approvals, with most of your paperwork going through underwriting well before closing. This makes things as stress free as possible while allowing you to close quickly, and helps your offer stand out to sellers.
Rate Secured: With rates continuously fluctuating, locking your interest rate has never been more important. Rate Secured allows buyers to cap your rate for 90 days while searching for a home. If rates go down, you get the lower rate. And if rates go up, yours won't!
Seller Guarantee: This offers the seller a $5,000 incentive (in addition to the earnest money provided by buyer) if you are denied for any reason other than a home inspection, title, survey, appraisal, or breach of contract.
Appraisal Gap Strategy: The current market requires strategy. We will work with you and your Realtor on an appraisal gap strategy (if needed) in case there is a big difference between the offer price and the appraised value of a home.
But more important than any program is working with a lender who's committed to doing what's right for you. Let's get started!
*The Churchill Certified Home Buyer program is not a commitment to lend funds and is not an approval but is a conditional approval subject to your acceptance of the terms and the conditions being fully satisfied prior to closing. All conditions are subject to final underwriting and final investor approval. The certification is subject to the financial status and credit report(s) of everyone on the application remaining substantially the same until closing, an acceptable contract of sale on a suitable property, collateral (the appraisal, title, survey, condition, and insurance) satisfies the requirements of the lender and loan selected is still available in the market. All closing conditions of the lender must be satisfied including the clear transfer of the title, acceptable and adequate title and hazard insurance, flood certification, and any inspections that are required by the real estate contract. *Rate Secured is available on 30-year conventional conforming and high-balance fixed-rate loans. Rate Secured is not available on investment property home loans. Seller Guarantee is for qualifying borrowers and select loan types only and are not available in all states or locations. Offer only valid on home loans closing on or before December 31, 2022.