The Easiest Way to Apply for a Home Loan
< Back to Articles | Time to Read: 5 minutes
"There's an app for that!" How many times have you heard that phrase before? Mobile apps have remained popular for years and they are not going anywhere. If you're in the market to buy or refinance a home, then take advantage of the easy-to-use Churchill Mortgage app. It's just one way we help guide you through the home loan process and toward stress-free homeownership.
At Churchill, we believe getting the right mortgage plan – a smarter mortgage plan – leads to empowerment and peace of mind. The free app is your central hub when getting a home loan with Churchill Mortgage. It's the best way to stay connected, securely upload personal documents, and track the progress of your mortgage. Everything is all in one place which makes getting a mortgage more convenient than ever.
Apply from Your Phone

: Fill out an application from anywhere. It's perfect for when you're on-to-go! A complete loan application only takes about 7-10 minutes on the app.

Mortgage Calculator:

Use the calculator to figure out your total mortgage payment in advance by estimating your loan amount, interest rate, and length of mortgage. You can instantly run scenarios to see how much house you can afford.

Pre-approval Letter:

Churchill provides more than just a pre-qualification letter; you will be pre-approved for your loan. This pre-approval has greater weight than just a pre-qualification letter since Churchill has conditional underwriting on your loan based on verified and documented information, potentially giving you a competitive advantage over other buyers.

Quickly Scan Important Documents:

Just scan and send your documents right from your smartphone. Just t

ap the camera icon to launch the scanner application to upload important loan documents such as a W-2, 30 days of paystubs, two months of bank statements, two years of federal tax returns, and driver's license. It's easy and secure.

Track Your Loan Progress:

As your home loan moves through milestones (such as processing, underwriting, and approval, etc.) you'll be able to verify your mortgage details and track the entire loan process all from the app.

Communicate with Your Home Loan Team

: Save time and interact with those who are working on your mortgage. You'll also receive notifications, making sure you are up to date with the latest information about your loan. Your Realtor® can even download the app and you can share your information for an even seamless home buying experience. We want to be accessible to you!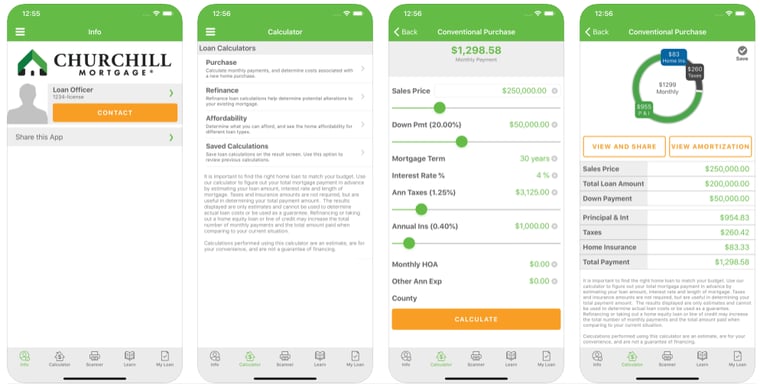 The Churchill App is available for download in the App Store and Google Play. Download it today!