New Mortgage Rate Structure
< Back to Articles | Time to Read: 5 minutes
If you're looking to buy a home in the next few years, it's important to understand how the new mortgage fee structure could impact your financing.
Starting May 1st, the Federal Housing Finance Agency (FHFA) will be rolling out changes to loan level pricing adjustment (LLPA) fees for all conventional conforming mortgages. There's no one-size-fits-all mortgage, which means the impact of these changes will depend on your unique financial situation and the type of loan you are applying for.
Keep in mind, despite the panic from the media, loan level pricing adjustments (LLPAs) are nothing new—they've been a part of the mortgage industry for several decades. These adjustments are fees assessed to mortgage borrowers who use conventional, conforming home loans through Fannie Mae and Freddie Mac (which are approximately 60% of the home loans in the U.S.). They do not apply to FHA, VA, USDA, or Jumbo loans.
The adjustments vary by borrower and are based on loan details such as:
Credit Score
Loan-to-Value Ratio (LTV)
Property Type
Occupancy Status
These changes include updates to loan pricing for second homes, high-balance loans, and cash-out refinances. Some segments (cash-out refinances) will see in an increase in fees while others will experience a decrease.
The heat map below reflects changes in basis points (BPs) NOT interest rates. Basis points are a common unit of measure for interest rates and other percentages in finance. For example, one basis point is equivalent to 0.01% (1/100th of a percent). So, 100 basis points = 1%.
If your credit score falls in these ranges, your pricing could be favorably impacted: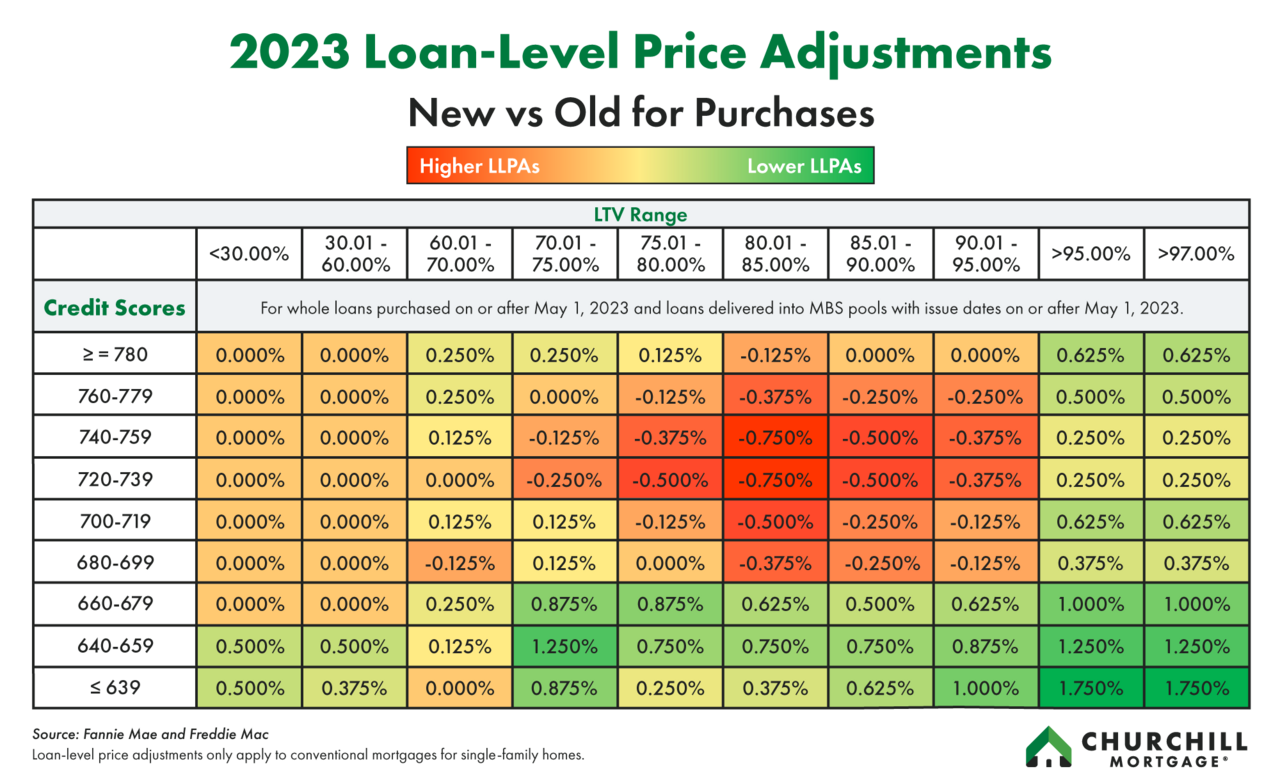 So, to break it down further: The FHFA is flattening the curve. People with better credit scores still get better interest rates than those with lower credit scores.
LLPAs will be waived for the following:
First-time home buyers whose income levels are below their area median income
Any buyer eligible for loans that qualify under the Duty to Serve rule
Any buyer eligible for the HomeReady® and Home Possible® mortgage programs
Any buyer who is underwritten by a housing finance authority (HFA)
So, why are all these changes being made? Ultimately, it's to promote long-term health of the housing market. We will have to see this play out to see how it impacts borrowers (and the mortgage industry) long-term.
If you have any questions about these LLPA changes, just reach out to a Churchill Home Loan Specialist to walk you through everything. We're here to guide you through the smartest home buying strategy both now and in the future.
Source: https://singlefamily.fanniemae.com/media/9391/display