How to Build Your Dream Home
< Back to Articles | Time to Read: 5 minutes
In today's market, inventory is low, and home prices are high. Because of this, many home buyers are now opting to build instead of competing with other buyers. But if you don't have cash to build a custom home, what are your mortgage options? Keep reading to learn what you need to know about building your custom home using a Construction-to-Permanent loan with Churchill Mortgage.
What Type of Loan Do I Need to Build a House?
You'll need a Construction-to-Permanent loan when building a custom home. This means you can build a home and finance your mortgage using one loan with Churchill Mortgage. This type of loan is great because it streamlines the homebuilding process from buying the land to completing construction.

At Churchill, we offer one-time close home construction loans with several loan program options as well as a two-time jumbo construction loan.
Construction-to-Permanent Loan Eligibility
Each Construction-to-Permanent loan program will have different requirements. Your Home Loan Specialist will answer any loan questions and guide you toward the right mortgage plan for you. However, some of the standard borrowing guidelines include:
Good to excellent credit
Low Debt-to-Income ratio
Downpayment of at least 20%. You will likely have to pay PMI if you put down less than 20%
Using a licensed builder. Search for reputable builders online using NAHB's directory of local building associations
Can be a first-time home buyer
Below are the specific credit requirements depending on the type of home construction loan you choose.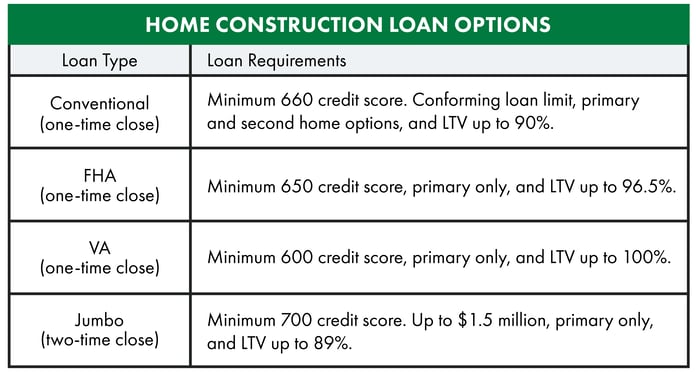 Building Your Home & Interest Rates
You'll have two interest rates during the construction loan process:
The first interest rate is your "under construction" interest rate and will be an interest-only monthly payment for the length of the build while your home is under construction.


The second is a "locked-in" interest rate that can be reviewed after your build is complete. This loan will become your monthly mortgage payment with a loan term of 15 or 30 years.
And the good news is you don't have to worry about rising rates as you build!
Planning Your Project
A lot of planning goes into building your home, so choosing the right builder is key. Once you have picked your builder, your Home Loan Specialist will need to see all plans for the build.
Here are the documents your builder and architect should provide:
Construction contract
Lot/land contract
Budget and breakdown of costs
Appraisal
Interior and exterior plans
Description of materials
While other documents may be needed, these are standard.
Note: You CANNOT build your own home. As the homeowner, you may not have any ownership in the building company or work on the construction of your home.
Closing Your Loan
After your builder and project timeline are settled, it's time to work with your Home Loan Specialist to close your loan. Your construction loan total will consist of the following:
The funds to build
Interest reserves
Funds used to purchase/pay off your lot/land
Closing costs
Working with a Builder During Construction
After you close on your loan, you'll begin taking draws to pay the lender-accepted builder during construction. Work with Churchill Mortgage during the construction project on allocating more money as inspections are completed. A reserve account will be set up to make monthly payments. During construction, you're making interest-only payments on the total loan amount. This increases as more and more draws occur.

You'll also have a contingency reserve, typically 5% of your construction budget, in case of unforeseen expenses. If any reserves are left over after the build is complete, they can be applied to the principal of your mortgage.
Estimate the Cost of Building a House
Be sure to consult a professional contractor to help determine the cost of building your home. Construction costs vary based on labor costs, location, building supplies, and market conditions.
Construction Is Complete
Once construction is 100% complete, your construction loan will convert to a permanent mortgage, and you'll start paying your ongoing monthly mortgage.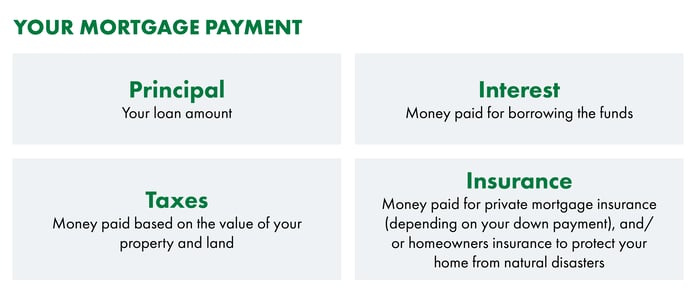 Note: Your monthly mortgage payment could be higher than the interest-only payment you've been making during construction.
Doing What's Right for You
Building a home is a wonderful investment in your future and a dream come true for many! With so much to consider, it's best to get all your answers before making any decisions, and the team here at Churchill Mortgage is honored to be by your side during this exciting time.

Your Home Loan Specialist will work with you every step of the way to ensure you feel educated and supported. We're committed to doing what's right for you and can't wait to see what we build together!