The Number One Secret for Home Buying Success
< Back to Articles | Time to Read: 5 minutes
If you're looking to buy a home, you've probably noticed there's typically one thing standing in between you and your dream home—other buyers! In fact, for every home sold right now, there's an average of five offers being made. For home buyers (especially if you've never bought a home before) that can feel overwhelming. Since sellers can afford to be picky about who purchases their home, many buyers are wondering how to make their offer more appealing without paying well over asking price.
The truth is, to win in today's real estate market, you must have a competitive edge over other buyers. It takes the right strategies and a trusted lender to help ensure that you stand out from the crowd. Part of Churchill Mortgage's commitment to doing what's right for you is providing every advantage possible, starting with our Home Buyer Edge program.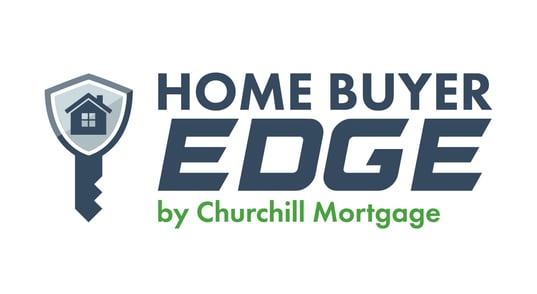 Home Buyer Edge encompasses each part of the home buying process, ultimately setting you up to make a successful offer. Let's take a better look at what this Churchill exclusive program offers you:
Lightning-Fast Pre-Approval
Using the Churchill App, you can apply for your home loan, get pre-approved, and start shopping for your new home all in the same day. You can also speak to a Churchill Home Loan Specialist and connect with a trusted Realtor.
Home Buyer Consultation
Your Home Loan Specialist is your partner in the home buying process. They're here to learn your short-and long-term goals so that you can build wealth through homeownership. Your Home Buyer Consultation will give you the opportunity to discuss your current financial situation, budget for buying, and share your goals. You'll learn what your real purchasing power is and be able to move forward with confidence.
Certified Home Buyer

This is considered the gold standard of pre-approvals and sets you up almost like a cash buyer. As a Churchill Certified Home Buyer your offer will look more attractive to a seller, especially during a bidding war because your home loan will be pre-underwritten by an actual underwriter. Remember, you can get pre-approved the same day you apply and becoming a Certified Home Buyer will only strengthen your offer when the time comes!
Interest rates fluctuate, which can cause stress levels to fluctuate, as well. With Rate Secured, you protect your interest rate by capping it for 90 days while you shop. Your rate won't rise, but if rates go down, yours will, too! And if you don't find a home in the first 90 days, we'll reset that rate for another 90 days.
A Trusted Advocate
At Churchill, we value relationships. Your Home Loan Specialist will reach out to the seller's agent on your behalf, vouching for you as a buyer and offering the data to back it up! They'll also share convenient strategies to help navigate a wide array of situations that may pop up during your home search.
$10,000 Seller Guarantee
A seller may accept an offer only to find out that it isn't going to work out for a variety of reasons. To provide peace of mind for both you and the seller, we've created a Seller Guarantee. This provides the seller $10,000 in earnest money if the home purchase is canceled due to financing issues. Your offer will immediately look more attractive when there's a financial incentive attached!
Close Faster and Stress Less
Home Buyer Edge will allow you to move through closing quickly, with much of the underwriting and paperwork for your home loan being completed well before closing day!
Partnership, Planning, Purpose
Your partnership with your Home Loan Specialist doesn't end when you close on your new home! In fact, it's just getting started. You'll continue to stay connected to your Churchill Mortgage team with check-ins throughout the length of your loan. This gives you the chance to discuss any changes to your goals or life, ways to pay off your home faster, and opportunities to plan for the future.
Home Buyer Edge provides options that enhance you as a buyer. You'll have the stability sellers are looking for and a team of trusted experts on your side! You'll also be on a smarter mortgage plan, one that allows you to build lasting wealth. Everyone deserves to achieve the dream of homeownership and Churchill Mortgage wants to help you make that happen.