What Type of Home Insurance Do I Need?
< Back to Articles | Time to Read: 5 minutes
You've found your dream home—this is great news! Once you have everything lined up for your new house, it's time to start thinking about getting insurance policies to protect your investment (and everything in it).
It's just like driving a car—you're required to have insurance to protect you and your family while you're on the road. Insurance for your home does the same thing but protects your house and belongings in the event of an incident, whether that's a leak in the bathroom or a natural disaster.
You may have heard terms like homeowner's insurance, hazard insurance, and private mortgage insurance during your mortgage process. But is there a difference? And how do you know what's covered?
THE BASICS:
Homeowner's insurance: This is usually a combination of hazard insurance with liability insurance. Homeowner's insurance usually protects other structural coverage (like a fence or shed), and personal property coverage (furniture, TVs, or clothing). This typically can help pay for financial losses that have nothing to do with the actual house. Standard policies don't cover expensive jewelry, firearms, or artwork. You'll need to get additional policies to cover those specialty items.
Hazard insurance: Generally, this refers to coverage for the structure of your home only. It usually covers hazards such as theft, fire, smoke damage, vandalism, storm damage from wind or hail, and much more. This will not cover what's inside your home. Hazard insurance is part of your overarching homeowner's insurance policy that's paid each month on your mortgage statement—it's not a separate coverage type. So, most people just have one homeowner's policy that incorporates hazard insurance too.
Supplemental hazard insurance: If you live in certain parts of the U.S., you may also be required to have supplemental hazard insurance. Keep in mind, your options will vary based on the location of your home, so you won't find earthquake or flood protection listed as a hazard since separate policies for homes classified to be in a flood zone, tornado alley, or on a fault line are available.
Private mortgage insurance (PMI): This is a type of mortgage insurance you may be required to pay if you have a conventional loan and make a down payment of less than 20% of the home's purchase price. It's arranged by the lender and is provided by private insurance companies to protect the lender in the case of default or foreclosure. If you have this type of insurance, it does not cover your personal belongings, the structure of the house, or if you have problems with default payments.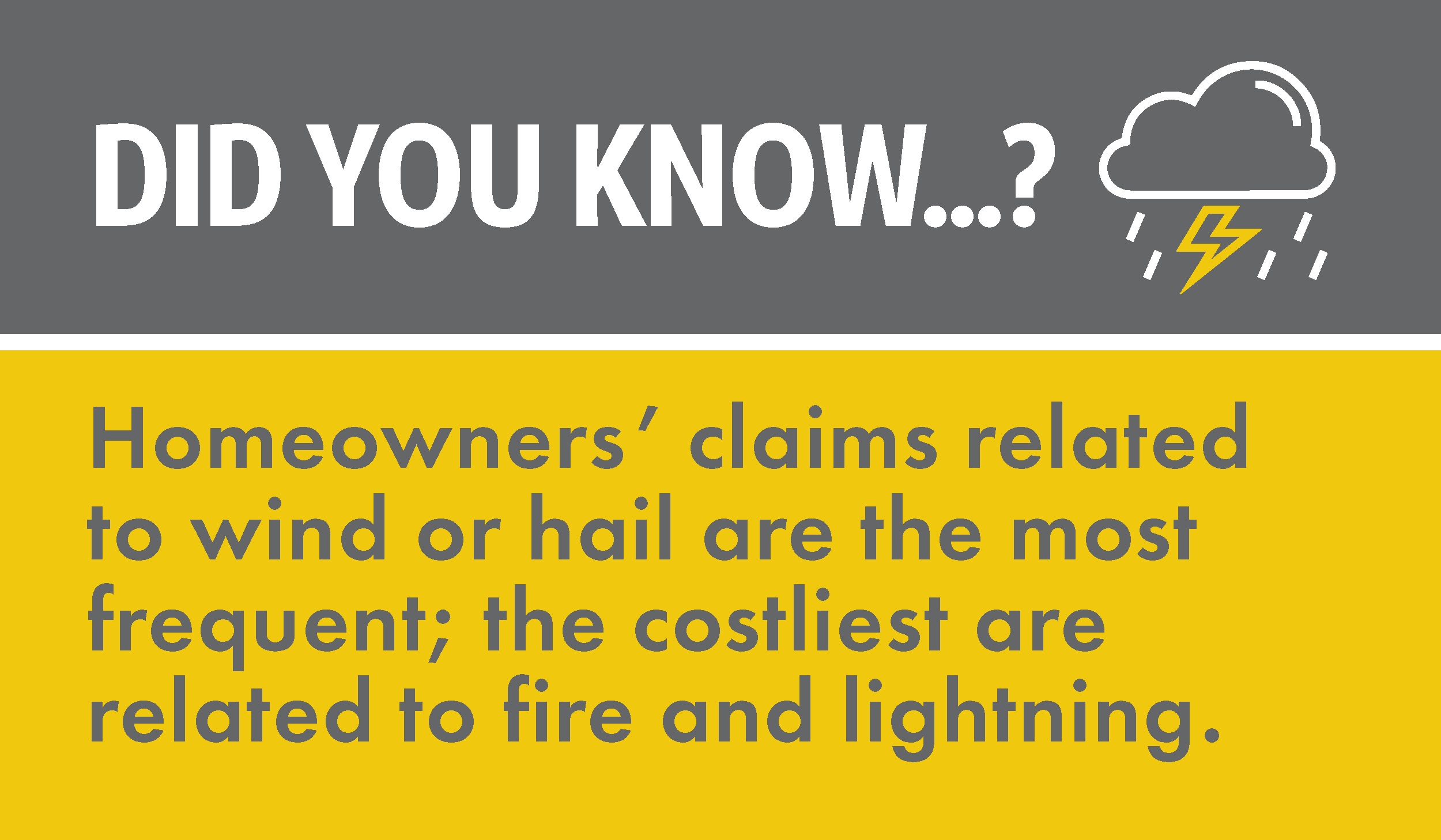 THE NITTY GRITTY:
To break it down even further, if a hurricane or tornado damaged your home, hazard insurance would help pay for the cost to repair or rebuild your house. But, if you had a fire in your bedroom that ruined your clothes and your bedroom furniture—that's where homeowner's insurance would come into play.
Now you have the breakdown of homeowner's insurance, hazard insurance, and private mortgage insurance. It's important to note that not all insurance policies are the same. Talk to your insurance agent about what may or may not be covered with your homeowner's insurance.
Source:
Insurance Information Institute calculations, based on ISO®, a Verisk Analytics® business, data for homeowner's insurance claims from 2012-2016