The Best Solutions for Home Organization
< Back to Articles | Time to Read: 5 minutes
Many people have a love/hate relationship with organizing their homes. You know you need to do it and you know how great it will feel once you're done, but the idea of doing the work to get your house in order sounds awful.
If that sounds familiar, you are not alone! While there's no guarantee you'll ever enjoy the process of organizing your home, these tried-and-true tips are sure to leave you and your living space refreshed!
Organizing does not have to be stressful. Some people prefer to go room by room while others would rather declutter items, meaning they'll go through all the clothes in their house at one time, then all the toys, etc. The most important thing to remember, regardless of your method, is to finish what you start!
When going room by room (which is our personal favorite), you want to ensure you don't just move items from place to place without ever making any progress. That means you need to not just organize but declutter and purge!
Now the question is, where to begin?
Kitchen: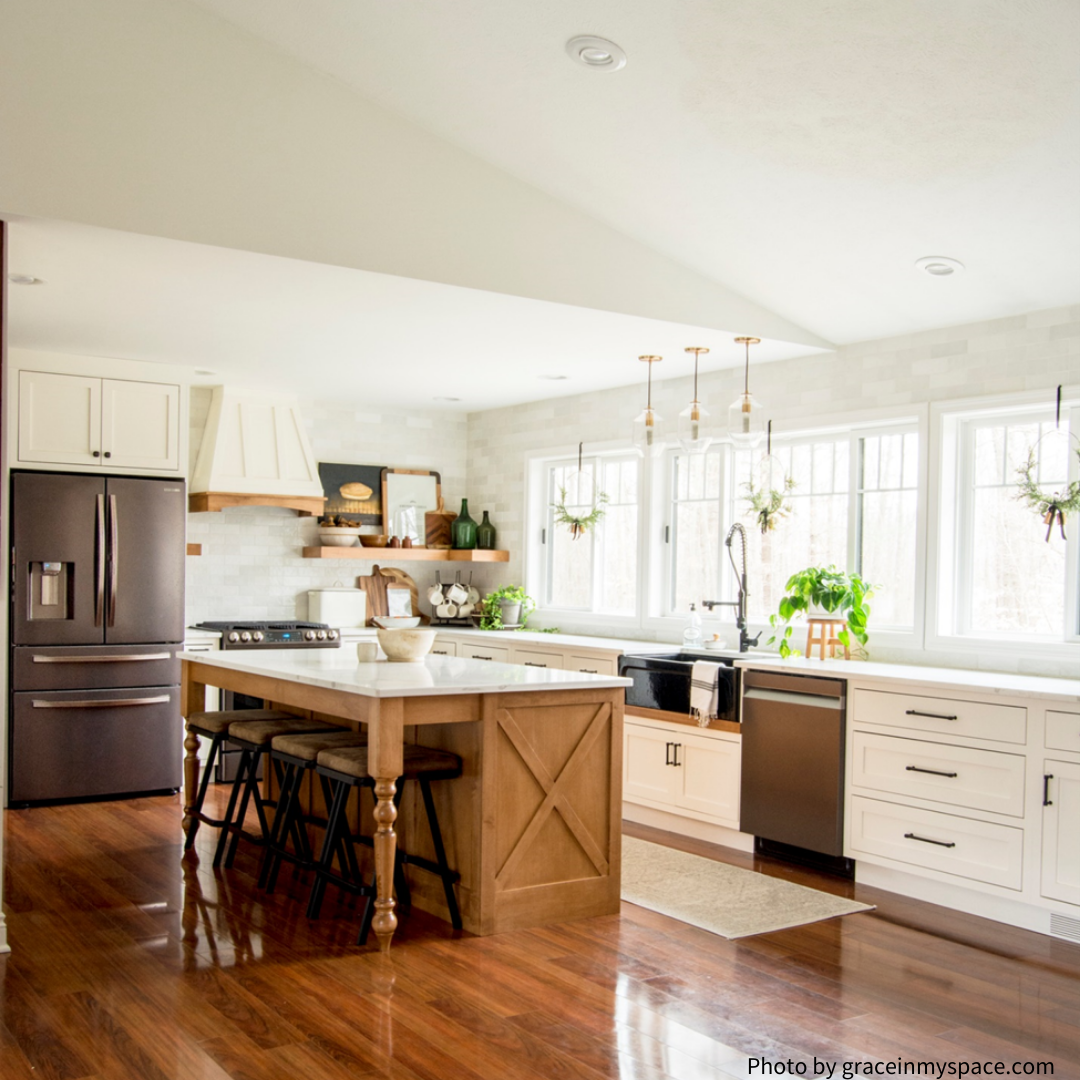 The kitchen tends to be the area in every home where people love to gather. It also tends to be a space that accumulates a lot of stuff. Here are our top ideas to organize your cooking space:
Under the Sink:
We all know the area under the sink can end up a mess of sponges, cleaning products, and plastic grocery bags we swore we were going to reuse (just us?!). First step is to recycle those plastic bags and switch to reusable grocery bags! The second is to organize those products. Here are some of the best under the sink organizers we've found, courtesy of The Spruce!
We've found the best way to keep this area organized is to go the minimalist route. You don't need 30 cleaning products. Stick with your favorite core products that work for multiple rooms in your home, and only buy more when you truly need them.
Junk Drawer:
Every home has one and it's almost always in the kitchen. The catch all for every extra key or takeout menu possible, the junk drawer can be overwhelming to tackle. First things first…throw away the takeout menus. Everything is online, you don't need them.
After that, decide what purpose you want that drawer to have. Is it a place for things like scissors or extra chip clips? Will it contain a flashlight and extra tea light candles for emergencies? No matter what you decide to keep in there, make sure everything is easily accessible. Here's one of our favorite organizers from Toko. We love it because you can customize based on drawer size and products you want to contain!
Cabinets:
Whether you have a huge kitchen with many cabinets or a tiny kitchen with minimal space, it's important to be smart about how you use the space because it makes a huge difference in the organization of your home. It's time to throw away or donate the items you aren't using! The mismatched dishes stuffed in the back of the cabinet when you have a nice set are not necessary. That pot that you can't find the lid to is doing you no favors at this point. Let them go!
Once you've decluttered and know what items you're going to keep (no, not the Tupperware with the spaghetti stains inside it), you'll need to decide what you want to put where. You may find you need more space to keep the things you use most within reach. An easy solution? Cabinet risers. They give you more space AND help keep the items you need at eye level. Check out these options from Target.
Fridge:
The fridge can be a disaster area if you let it. To keep that from happening, the best thing you can do is to toss any expired items as soon as you notice them. Next, organize the shelves in a way that makes sense for your lifestyle.
To keep things simple, we recommend sectioning off the fridge. Put the kids lunches in one area, leftovers in another, drinks on their own shelf, etc. To make this easier, The Home Edit has an entire fridge design section at The Container Store! Whether you buy one bin or 10, these items will have your fridge looking like an Instagram ad in no time.
Bedroom: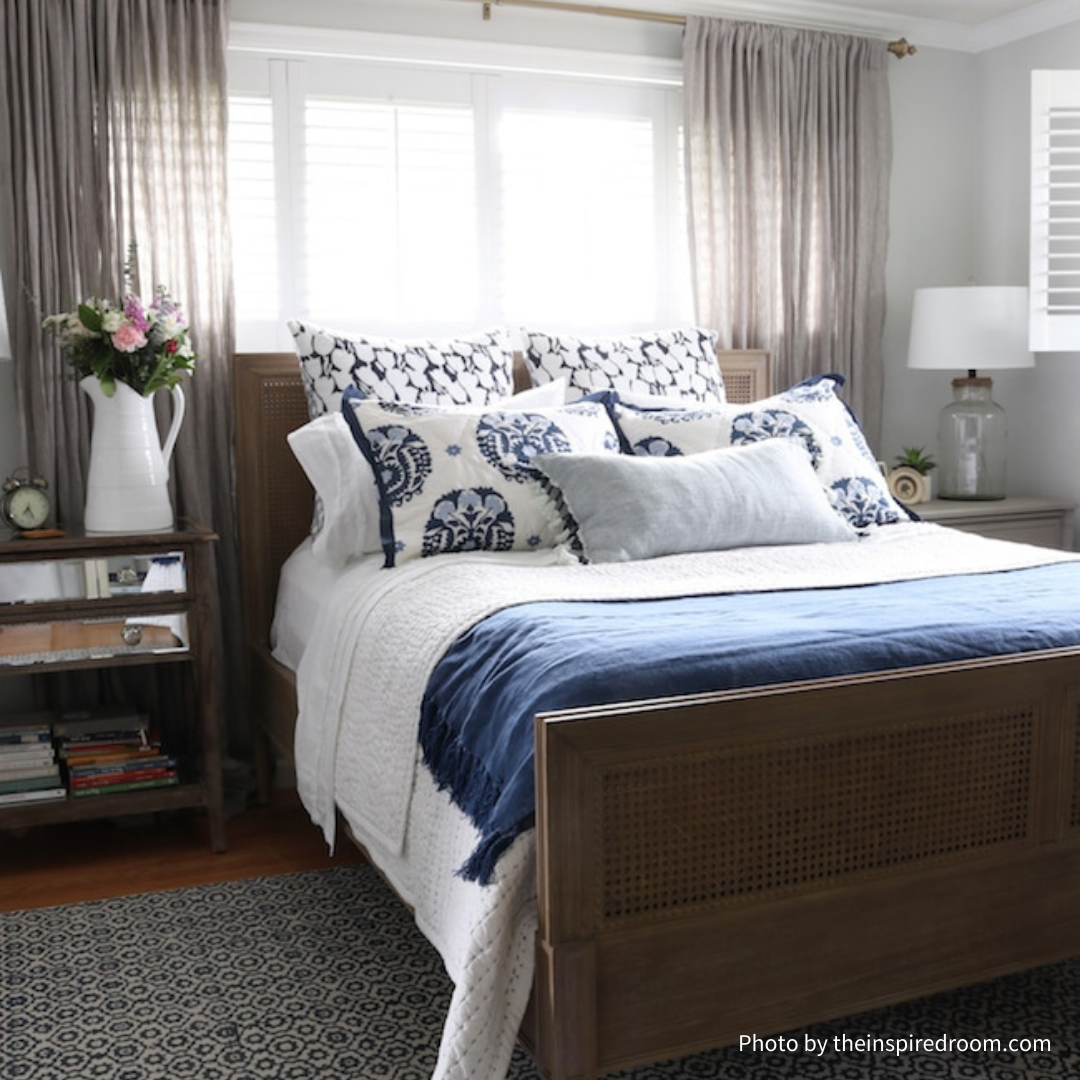 Bed:
First things first: Make your bed every single day. Yes, we know that's not exactly an organizing tip, but it does help the room to feel pulled together and it's an easy item to check off the to-do list!
If you find yourself needing to use the area under your bed for storage, do your best to keep it tidy. There are a ton of options out there for shoe bins, sweater organizers, and the like. Check out these options from Wayfair. Switching your seasonal clothes out from the closet to under the bed is a great way to keep things from becoming cluttered.
Closet:
Now, let's talk closets. Do you have a chair in your bedroom that seems to catch the laundry you haven't quite folded yet? Us, too. Don't worry, we have solutions! As we mentioned above, keeping your wardrobe seasonal will help with unwanted clutter. To keep your clothes organized, start with the basic task of buying matching hangers. Investing in quality hangers will help your clothes look newer longer and it makes the closet look pulled together. Some of our favorites? These simple and inexpensive hangers from Ikea!
Now that your clothes are sorted out, you'll want to tackle shoes! Shoes can easily overwhelm a closet, so a seasonal switch is a must here, as well! Feel free to put the flip-flops in a container in the garage until summer or hide the boots in the basement until it snows! To organize your shoes well, we like shelves rather than over the door hangers. It looks more cohesive, and you can guarantee that everything fits. Here's a great option from Bed Bath & Beyond.
Dresser:
Another catch-all in the bedroom is the dresser. It seems like we can never find the t-shirt we're looking for and before we know it, they're all a sloppy mess. There are a couple ways to combat this.
The first is to fold your shirts as if you were filing them away rather than on top of each other. This way you know exactly what you're grabbing. Also, use dresser drawers for less bulky items. (The bulky items are for the new hangers!) It doesn't hurt to use drawer organizers in the dresser, either. They can be especially helpful for separating socks and underwear. Amazon has plenty of options, including these, which have great reviews!
Play Room: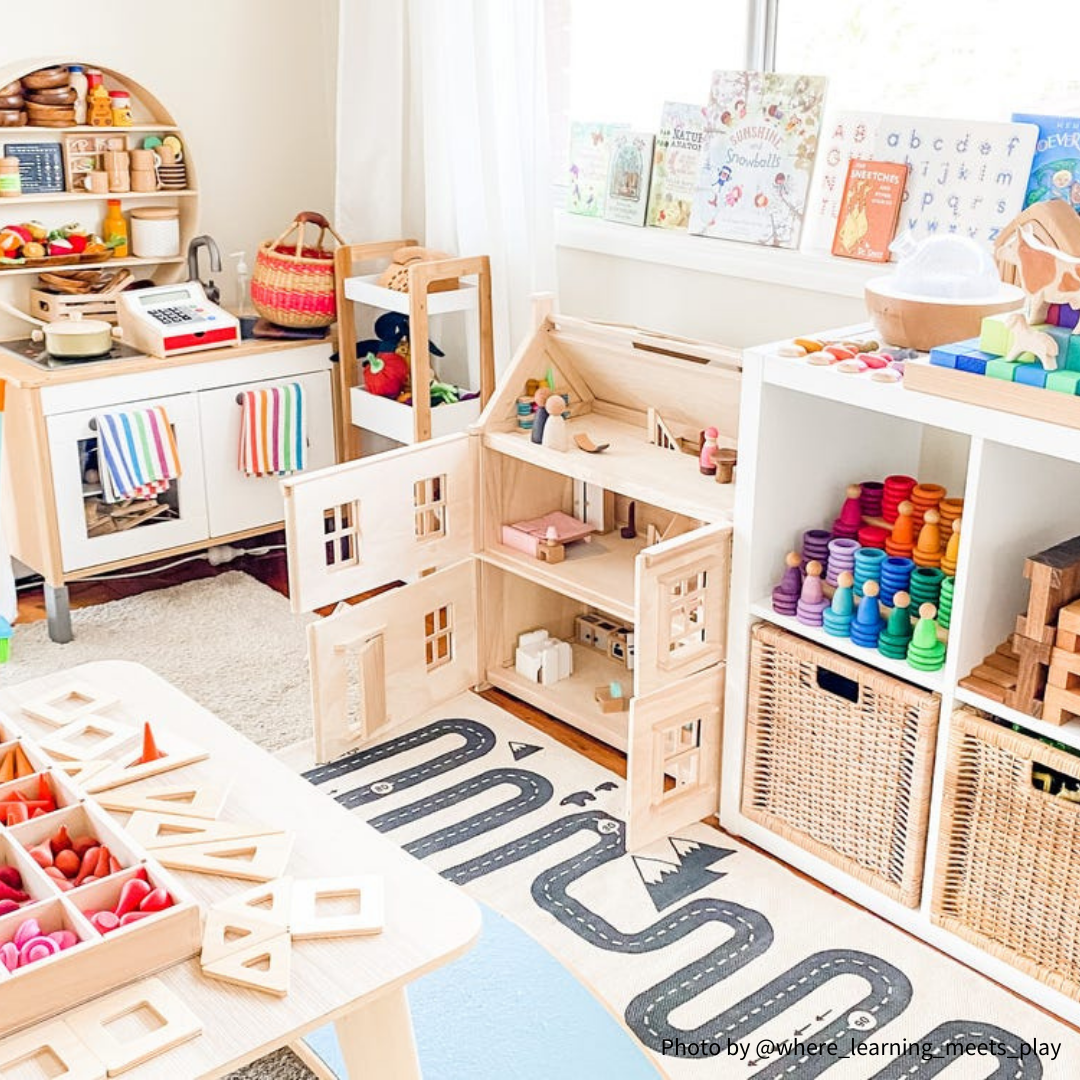 Of all the rooms in your home to let organization go by the wayside, this is the one. The odds of keeping a mess contained in a playroom are slim to none and we all know that as parents, you need to pick your battles! Give yourself a break, close the door, and pretend the chaos behind it doesn't exist.
Or, if that doesn't work for you, try a simple system that your kiddos can work with on their own. For example, color-coded bins can do wonders in a room filled with toys. If your children know that all dolls go in the blue bin and all blocks go in the green bin, it makes it easier for them to keep things clean. This shelving system from Home Depot may be perfect for your little ones.
Don't forget to do an overhaul occasionally, getting rid of toys that are no longer played with or are no longer age appropriate for your kids.
Garage: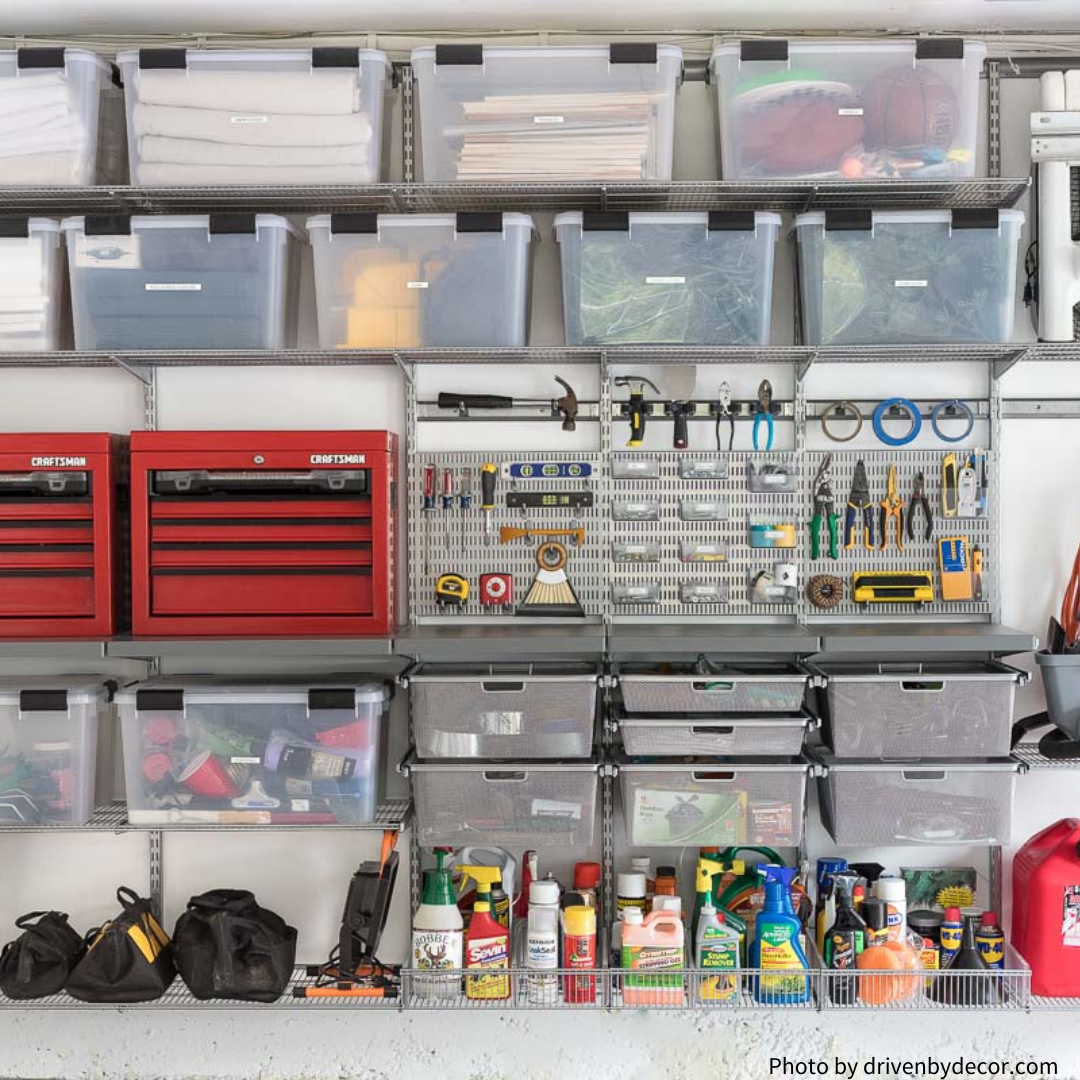 For most of us, the garage serves as more than a place to store the car. It houses our holiday décor, our sporting items, buckets of memories, and lots of tools and equipment. One day of outside activities and it's safe to say this area could be a wreck.
The answer to garage organization comes down to the saying, "a place for everything and everything in its place." Before you start, we recommend stepping back and reimagining the space. Can tools and bikes be hung on the wall? Is there space to add in shelves and bins? Is there anything that can be moved to a crawlspace?
Most garages will have space for a shelving system, even with a car inside! It's just finding one that works for you. Here are a couple options from Amazon and Wayfair to work with any price point. Remember to label each box before closing so that you don't go to pull out winter coats and find golf balls!
To sum it all up:
Throw away or donate items you don't need.

Bins are your best friend.

Make seasonal switches.

Find a system that works for your lifestyle.
If you're prepping to sell your home, these tips are great as part of your overall staging plan!