How Interest Rates Are Determined
< Back to Articles | Time to Read: 5 minutes
Buying a home is a big step and you always want to get the best deal—from negotiating on the home price to finding the best home loan for your situation. But, it can get confusing when you look online for the lowest interest rate.
You'll usually see a wide swing of numbers so you might be wondering how your mortgage interest rate is determined. Being knowledgeable about how this works can provide you with confidence to have a meaningful conversation with your Home Loan Specialist.
On any given day, there are a variety of factors that can impact your interest rate:
Home price and loan amount: Your home price minus your down payment will determine how much you'll borrow which helps determine how much the interest rate will be.
Down payment: Generally, a higher percentage down payment equals a lower interest rate. The more money you put down, the more stake you have in the property.
Loan term: Shorter terms (like a 15-year or a 20-year) generally have smaller interest rates than a 30-year term.
Interest rate type: Interest rates come in two basic types: fixed and adjustable. Fixed rates do not change over time. Adjustable rates, on the other hand, have an initial fixed period then go up or down based on the market. For example, a 5-year ARM loan will have a fixed-rate for the first 5 years and then the rate will fluctuate from the 6th year onward.
Loan type: Different categories of loans (like conventional, fixed-rate, FHA, etc.) have different rates.
Credit score: Primarily based on credit report information usually sourced from credit bureaus. Typically, this is called your FICO score and is based on your credit history.
Quick tip: Don't focus solely on interest rates. Interest rates might be identical from loan to loan but fees can vary widely. It's important to know what's included in calculating the Annual Percentage Rate (APR) so you can properly compare your loan options.
To put it simply, interest is the percentage of your loan that's charged for borrowing money. APR is how the interest rate will affect your payments over the course of an entire year, and includes any additional fees and potential mortgage insurance associated with the loan. Knowing the APR gives you a straightforward way to compare the cost of one loan to another. This is really the only way you'll know the true cost of your loan.
Other variables that can affect your interest rate: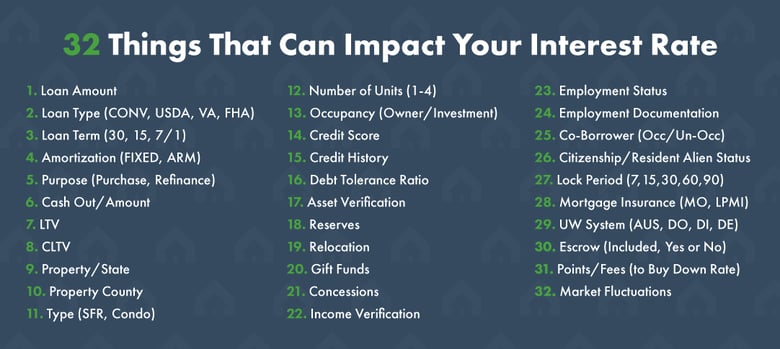 If you're interested in testing out how different interest rates can impact your overall home loan, check out our mortgage calculators.